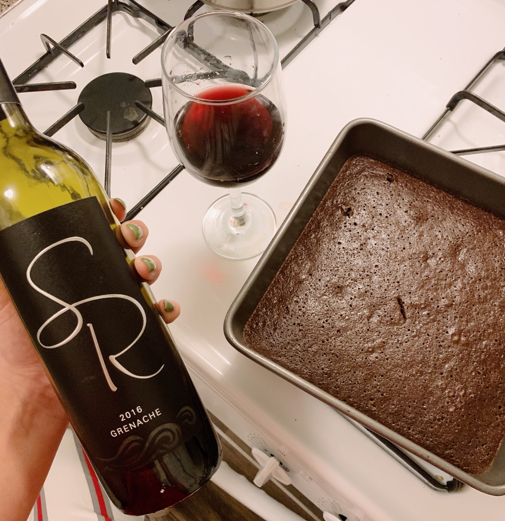 There is no doubt that chocolate and red wine pair perfectly together. There is nothing that the palette loves more than a brownie and a bold red wine. But have you ever considered combining the two? Red wine brownies have a mystery to them that contributes seamlessly to the perfect combination of brownies and red wine.
This recipe takes approximately 35 minutes and can be altered in any way, as long as you have brownie mix and red wine. The Rosenthal Surfrider Grenache 2016 is used for your recipe along with the Brownie Truffle Baking Mix from Trader Joe's. Enjoy the bottle while you bake and just remember to save a little bit for the recipe. Enjoy!
Red Wine Brownies
Ingredients:
1 Full Package of Brownie Mix
2 Large Eggs
1 Stick of Butter (4 oz.)
1 Bottle of Rosenthal Surfrider Grenache 2016
Baking Instructions:
Follow the instructions designated on the brownie mix you are using in your recipe. The baking instructions below can be found on the Trader Joe's Baking Mix.
Prepare: Preheat oven to 350°F. Lightly grease bottom and halfway up the sides of a standard 8 x 8 x 2 pan with butter or cooking spray.
Mix:  Melt butter (1 minute in microwave or use a small saucepan on stove). Melted butter should be creamy looking. Whisk in eggs until blended. Add brownie mix and stir until moistened.
Wine: After brownie mix and other ingredients are combined, add ½ cup of Surfrider Grenache to the mix and mix thoroughly. (Use any red wine for this step, but it is the best with Surfrider Grenache).
Pan: Spread butter in pan, filling corners and leveling top.
Oven: Bake for 25-30 minutes (drink a glass of wine while you wait). Allow brownies to cool for 30 minutes before removing from the pan. This should be around 16 servings (as per Trader Joe's).
Serve alongside a second glass of Surfrider Grenache and enjoy!
Written by: Dria Butler
www.WanderForWine.com