A ROOM WITH A VIEW
Just across from the beach in Malibu, the Rosenthal Tasting Room offers a casual atmosphere in which to discover and enjoy our full selection of Rosenthal and Surfrider wines.
Come and enjoy the Live Music Friday - Sunday and Food Trucks on Saturday and Sunday with an ocean view from our exquisite garden patio.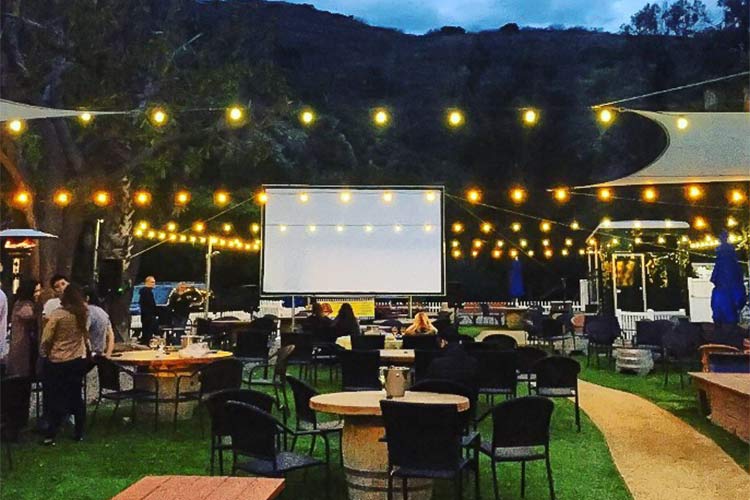 First Friday Movie Nights
Last Friday Comedy Nights
Check the event calendar for dates and times and other events scheduled.
TASTING ROOM EVENTS
(click here)
S
M
Tu
W
Th
F
S
1

http://rosenthalestatewines.com/event/live-rosenthal-24/

SATURDAY, JULY 1st

Live Music starts at 12:30pm Starting with BRANDON RAGAN PROJECT

Followed up at 3:00pm with DJ TONS OF FUN

And Lastly at 7:30pm with MONTANA SHANE

First Sat of every month with JD LUXE, CHIC STUDIOS and CAKE AND PUNCH FLOWER CROWNS

SUNDAY, JULY 2nd

Live Music starts at 12:30pm Starting with THE BRANDON RAGAN PROJECT

Followed up at 3:30pm with MIKEY DE LARA

http://rosenthalestatewines.com/event/live-rosenthal-33/

SATURDAY, JULY 1st

Live Music starts at 12:30pm Starting with MIKEY DE LARA

Followed up at 3:30pm with DJ TONS OF FUN

And Lastly at 6:30pm with STEFAN STORACE

SUNDAY, JULY 2nd

Food Truck TBD

Live Music starts at 12:30pm Starting with NATALIE WATTRE

Followed up at 3:30pm with MIKEY DE LARA

2

http://rosenthalestatewines.com/event/live-rosenthal-35/

SUNDAY, JULY 2nd

http://rosenthalestatewines.com/event/live-rosenthal-34/

SATURDAY, JULY 1st

Live Music starts at 12:30pm Starting with MIKEY DE LARA

Followed up at 3:30pm with DJ TONS OF FUN

And Lastly at 6:30pm with STEFAN STORACE

SUNDAY, JULY 2nd

Food Truck TBD

Live Music starts at 12:30pm Starting with NATALIE WATTRE

Followed up at 3:30pm with MIKEY DE LARA

3
4
5
6
7

http://rosenthalestatewines.com/event/friday-night-music-17/

FRIDAY JULY 7th

Live Music indoors starting at 5:30pm with BRANDON RAGAN PROJECT

1st Friday Movie Night – Dirty Dancing

http://rosenthalestatewines.com/event/1st-friday-movie-night-2-2-2-2/

FRIDAY JULY 7th

Dirty Dancing

FREE MOVIE NIGHT BEGINNING AT 7pm

Free Entrance, Bottle Specials, Show begins at 6pm AFTER Live Music.

Dress warm and bring blankets to cuddle up during the movie.  (note: sorry, no heaters will be available as we want to provide unobstructed views of the screen.)

8

http://rosenthalestatewines.com/event/live-rosenthal-36/

SATURDAY, JULY 8th

Live Music starts at 12:30pm Starting with CUTTING RHYTHM

Followed up at 3:30pm with DAVE AND THE THIRSTY HERO'S

And Lastly at 6:30pm with AMBER AND THE SMOKE

SUNDAY, JULY 9th

Food Truck WISE'S BBQ

Live Music starts at 12:30pm Starting with JD NASH

Followed up at 3:30pm with GARRET WAX

9

http://rosenthalestatewines.com/event/live-rosenthal-37/

SUNDAY, JULY 9th

Food Truck WISE'S BBQ

Live Music starts at 12:30pm Starting with JD NASH

Followed up at 3:30pm with GARRET WAX

10
11
12
13
14

http://rosenthalestatewines.com/event/friday-night-music-18/

FRIDAY JULY 14th

Live Music indoors starting at 5:30pm with BRANDON RAGAN PROJECT

15

http://rosenthalestatewines.com/event/live-rosenthal-38/

SATURDAY, JULY 15th

Live Music starts at 12:30pm Starting with MIKEY DE LARA

Followed up at 3:30pm with THE BRANDON RAGAN PROJECT

And Lastly at 6:30pm with TBD

SUNDAY, JULY 16th

Food Truck WISE'S BBQ

Live Music starts at 12:30pm Starting with OAK STREET BLUES

Followed up at 3:30pm with DENNIS CLARK

16

http://rosenthalestatewines.com/event/live-rosenthal-39/

SUNDAY, JULY 16th

Food Truck WISE'S BBQ

Live Music starts at 12:30pm Starting with OAK STREET BLUES

Followed up at 3:30pm with DENNIS CLARK

17
18
19
20
21

http://rosenthalestatewines.com/event/friday-night-music-19/

FRIDAY JULY 21st

Live Music indoors starting at 5:30pm with TBD

22

http://rosenthalestatewines.com/event/live-rosenthal-40/

SATURDAY, JULY 22nd

Live Music starts at 12:30pm Starting with JAZZMOVES

Followed up at 3:30pm with CALVIN BANKS AND THE TELLERS

And Lastly at 6:30pm with MIKEY DE LARA

SUNDAY, JULY 23rd

Food Truck TBD

Live Music starts at 12:30pm Starting with MATT BRADFORD

Followed up at 3:30pm with BRANDON RAGAN PROJECT

23

http://rosenthalestatewines.com/event/live-rosenthal-41-2/

SUNDAY, JULY 23rd

Food Truck TBD

Live Music starts at 12:30pm Starting with MATT BRADFORD

Followed up at 3:30pm with BRANDON RAGAN PROJECT

http://rosenthalestatewines.com/event/live-rosenthal-41/

SUNDAY, JULY 23rd

Food Truck TBD

Live Music starts at 12:30pm Starting with MATT BRADFORD

Followed up at 3:30pm with BRANDON RAGAN PROJECT

24
25
26
27
28

http://rosenthalestatewines.com/event/friday-night-music-20/

FRIDAY JULY 28th

Live Music indoors starting at 5:30pm with NATALIE WATTRE

http://rosenthalestatewines.com/event/free-comedy-night-3-2-2/

FRIDAY JULY 28TH
LAST FRIDAY OF EVERY MONTH!

FREE COMEDY SHOW HOSTED BY CHRIS CROFTON!

Free Entrance, Bottle Specials, Show begins at 8pm AFTER Live Music.

29

http://rosenthalestatewines.com/event/live-rosenthal-42/

SATURDAY, JULY 29th

Live Music starts at 12:30pm Starting with CHU VICTORIA

Followed up at 3:30pm with MONTANA SHANE

And Lastly at 6:30pm with RICH SHELDON

SUNDAY, JULY 30th

Food Truck BISON BURGER FOOD TRUCK

Live Music starts at 12:30pm Starting with JEFF TORRENCE

Followed up at 3:30pm with JD NASH

30

http://rosenthalestatewines.com/event/live-rosenthal-42/

SATURDAY, JULY 29th

Live Music starts at 12:30pm Starting with CHU VICTORIA

Followed up at 3:30pm with MONTANA SHANE

And Lastly at 6:30pm with RICH SHELDON

SUNDAY, JULY 30th

Food Truck BISON BURGER FOOD TRUCK

Live Music starts at 12:30pm Starting with JEFF TORRENCE

Followed up at 3:30pm with JD NASH

http://rosenthalestatewines.com/event/live-rosenthal-43/

SUNDAY, JULY 30th

Food Truck BISON BURGER FOOD TRUCK

Live Music starts at 12:30pm Starting with JEFF TORRENCE

Followed up at 3:30pm with JD NASH

31